Over the last year, we've had the privilege of working with leading B2B SaaS companies in driving efficient growth and improving their GTM productivity. In this post, we'll share how we've partnered with the Sales and Marketing teams at FireMon to more than double their outbound effectiveness.
FireMon improves security operations that will in turn lead to better security outcomes. FireMon delivers industry-leading security policy management, cloud security operations, and asset management solutions. Our platform is the only real-time solution that reduces firewall and cloud security policy-related risks, manages policy changes, and enforces compliance.
FireMon Business Needs
FireMon operates in the hyper-competitive security sector. Their target audience is security executives, network security engineers, firewall engineers, and security architects that operate business-critical security infrastructure for businesses worldwide. These target personas are sophisticated, knowledgeable, and skeptical in the face of the relentless attention that they get from a variety of security vendors. They value relevance and are likely to ignore cookie-cutter messaging that does not speak to their pains and needs. "Spray and pray" is positively the wrong way to get their attention.
Joey Saucedo, the VP of Growth and Sales at FireMon knew that the best way to connect with prospects was by taking a hyper-personalized approach at the account and contact level. This required nailing both the relevance and the timing of their SDR messages – something that the 3 top performing SDRs seemed to do really well. The challenge that they were wrestling with was how they could scale this impressive performance across the full team of 10 SDRs.
As Saucedo shared, "As someone who's been in the Sales Development space for the last 2 decades, you're always looking at ways to apply what your top performers are doing across the rest of the team". He and David Wheeler, the SDR Manager, were looking for a way to replicate the prioritization and personalization plays that these reps were taking across all of their accounts.
Blockers to Improving Outbound Performance
The Top SDRs at FireMon – Mac Corbin, Tyler Stachnick, and Sam Leguizamo – were driving 50%+ of the outbound pipeline by identifying the best-fit accounts in their regions and then connecting fit signals with the FireMon value proposition. While this was a great starting point, Joey and David were looking to address 3 specific issues that could help Mac, Tyler, Sam, and the rest of the SDR team dramatically improve their outbound effectiveness.
First, this process of looking up signals and connecting the dots across the signals was painfully manual and complicated. It was taking between 8 and 12 hours a week for each of the top-performing SDRs. Which was holding back the ability of the team to scale its performance. There was an additional challenge, the rest of the SDRs were unlikely to follow these intricate steps on an ongoing basis. This meant the manual approach could not be replicated across the rest of the team. Joey and David were looking for a mechanism to automate the existing signals so that the team could focus on selling as opposed to manually identifying accounts and contacts to target.
Second, Joey and David had the sense that, beyond the signals that the Top SDRs were tracking, there were likely to be other pains, initiatives, needs, and events that the team could tap into to further improve their conversion rate. They were looking for a way to identify and utilize these signals on an ongoing basis.
Third, the FireMon team wanted to ensure that the proper personas at the highest value accounts were being worked on thoroughly on an ongoing basis. The correlation between the timing and signals tracked with the pipeline generated was vital. The goal was to continually iterate on the signals based on market and product changes.
It was this need to prioritize the top accounts, automate relevant plays, track if the right personas were being worked, and optimize their approach iteratively that brought the FireMon team to Relevvo.
Account Prioritization and Personalization with Relevvo
Relevvo has automated the process of prioritizing the best-fit accounts and then orchestrating plays for these accounts with persona-based messaging for the FireMon team.
First, Relevvo prioritizes the best-fit, highest-value accounts for FireMon by automatically tracking pains, initiatives, needs, and event signals across mountains of data. Next, these best-fit accounts are mapped to targeted plays that include persona-based messaging connecting the fit conditions to the FireMon value proposition. Through the use of Relevvo's integration with Outreach, SDRs are able to have access to these signals to easily personalize their messages in their existing workflow within Outreach.
Finally, Relevvo lets the SDRs and the Management team track if the highest-value accounts and the associated personas at these accounts are being worked on an ongoing basis.
For account prioritization, Relevvo is using machine learning to automatically track relevance and timing signals in sources like 10Ks, 10Qs, earnings calls, prospect websites, news, and more to help the FireMon team identify latent intent early in the buyer's journey. Relevvo uses these best-fit signals in intersection with intent signals from sources like 6Sense, TrustRadius, and PeerSpot to surface the highest-value accounts for each individual SDR on a daily basis.
For the prioritized set of accounts, Relevvo surfaces the relevant signal snippets identified in the step above in FireMon's sales engagement tool of choice, Outreach. This means SDRs have ready access to personalization signals for each of their accounts in their existing tool and workflow without having to spend many hours looking for this information in ten to twelve different sources. This is helping each SDR personalize 2 messages per prospect in a short amount of time.
Finally, by seamlessly unifying the prioritization and personalization workflows, Relevvo is able to give SDRs and SDR Managers real-time visibility into how the highest-value accounts and associated personas are being worked. This helps the team continuously track their account and contact approach to ensure the best response and conversion rates. This was impossible to do when these workflows were scattered across multiple tools.
Results: Doubling Outbound Effectiveness
FireMon's weekly outbound meetings booked rate has more than doubled since they started using the Relevvo platform. This is because of improvements both in Sales efficiency and Sales effectiveness for the SDR team.
What's critical is to duplicate the relevance and timing aspects of what the top performers are doing. That's exactly what Relevvo is helping us do. Relevvo has helped us double our outbound productivity in a very short time. It's now helping us onboard new SDRs faster and get more out of them on a regular basis!"

Joey Saucedo, VP of Growth and Sales at FireMon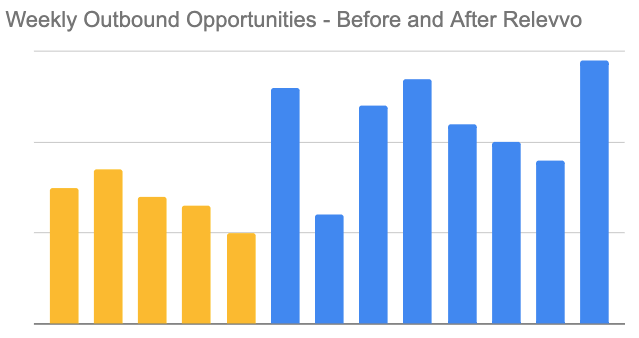 From a Sales effectiveness perspective, Relevvo is helping the SDRs work the highest pipeline value accounts consistently week after week. By automating persona-based plays that map best-fit conditions to the FireMon value prop, Relevvo is helping the FireMon team reach the highest value prospects with the most relevant message at the right time.
Relevvo is saving me a ton of prospecting time to find the top accounts. Before Relevvo it would take forever to find all of this information and a lot of it would be based on luck. Me searching for the CISO and something pops up. Having to no longer do that and have 5 best accounts given to us from Relevvo each week is huge. Especially if you're a newer member of the team. Also, because of the plays that Relevvo lights up, we're way better at focusing our messaging around single points of interest. We were discussing in a meeting last week that not only are we having more success reaching out with outbound but we're also booking more meetings as well."

Mac Corbin, Business Development Team Lead
From a Sales efficiency perspective, Relevvo has cut out significant portions of time that the SDR team was spending researching low-value accounts, reaching out to the wrong personas, or personalizing messaging using an unsuitable value proposition.
Before Relevvo, SDRs were spending roughly a quarter of their prospecting time finding good accounts to work, a quarter of their prospecting time finding the right contacts to work, and about half their prospecting time composing personalized messages. Relevvo has cut close to 90% of the SDR's research time and 80% of the time that they were spending figuring out the right contacts and relevant context for messaging.
Relevvo is helping us locate the hot topics with a given account. Relevvo allows you to go into an account and see that there could be intent signals around the cloud, maybe they're just around security, or maybe there are just signals around a certain kind of compliance. Knowing this allows you as the seller to focus in on specific pain points at the account that ties back to different FireMon use cases".

Tyler Stachnik, Business Development Strategic & Global Accounts
Relevvo has made it dramatically easier for Managers to ensure that the right accounts, personas, and messages are being used in prospecting efforts. As opposed to relying on a combination of Salesforce reports, PIVOT tables, and Slack messages, Managers can now rely on Relevvo to track if the right accounts and the right personas are being worked at each account.